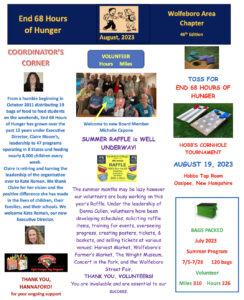 From a humble beginning in
October 2011 distributing 19
bags of food to feed students
on the weekends, End 68 Hours
of Hunger has grown over the
past 12 years under Executive
Director, Claire Bloom's,
leadership to 47 programs
operating in 8 States and feeding
nearly 8,000 children every week.
Claire is retiring and turning the
leadership of the organization
over to Kate Roman. We thank
Claire for her vision and the
positive difference she has made
in the lives of children, their
families, and their schools. We
welcome Kate Roman, our new
Executive Director.
The summer months may be lazy however
our volunteers are busy working on this
year's Raffle. Under the leadership of
Donna Cullen, volunteers have been
developing schedules, soliciting raffle
items, training for events, overseeing
progress, creating posters, tickets, &
baskets, and selling tickets at various
venues: Harvest Market, Wolfeboro's
Farmer's Market, The Wright Museum,
Concert in the Park, and the Wolfeboro Street Fair.
Published on