Exciting things are happening at End 68 Hours of Hunger's Lake County, OH chapter!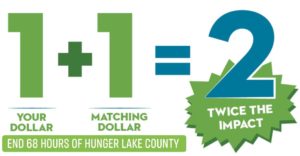 First, starting August 9- September 9, every donation we received will be
DOUBLED
up to
$46,000
!
All you have to do is write "Match Funds" on your check, in the "message to seller" on Paypal or in the "message" on Chip In.
Checks can be made out directly to End 68 Hours of Hunger Lake County.
Paypal, Chip In and our P.O. Box information can be found in the links below.
DON'T FORGET TO INCLUDE MATCH FUNDS on all donations!
Secondly, their space has been completely renovated! The
space used to function as a physicians office so, it was very compartmentalized with numerous exam rooms, a small reception/waiting area. 
During renovation, all of the walls have been taken down, the floors have been redone, there's new paint, lighting, doors and window coverings.
The best part is, ALL of the materials, construction/labor costs… EVERYTHING was donated! (End 68 Hours of Hunger did not pay one cent for anything!!)
Pictures of the updated space and the grand RE-OPENING happening soon!
Published on